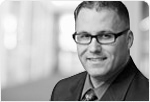 With more than 25 years in sales and customer service and over 7 in the IT industry, Jim brings a wide array of experience and passion to his position with Network Knowledge. The majority of his IT experience comes from work as a small business specialist for a nationwide company, it is here that he became a Microsoft Certified Professional and worked extensively with Apple products and became certified in their hybrid Apple sponsored program. Jim's attitude towards his clients is one of professionalism and partnership, using his knowledge to help his clients successfully utilize the most appropriate technologies for their needs.
Jim was born and raised in Maine, but took some time to gain experience living for several years in the Denver, Colorado area. It was family and the desire to live in Maine that brought Jim home.
Jim and his wife, Audra, have lived in the community of Westbrook, Maine since 2006, where they are raising their family, Mackenzie and Jimmy.