Network Knowledge Managed IT Services
Proactive network monitoring and maintenance centered on your business.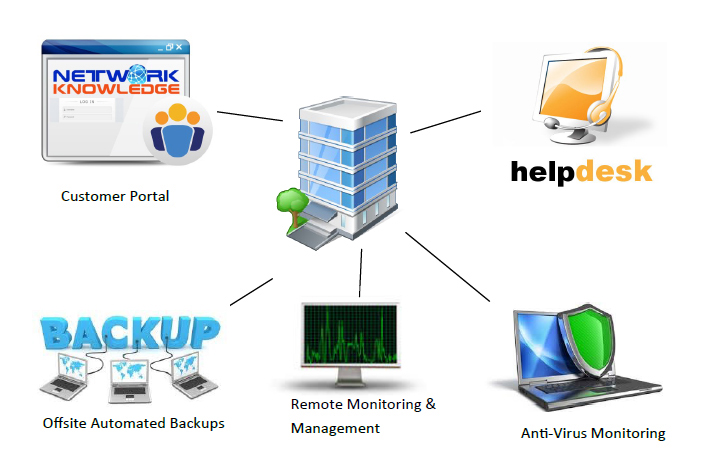 Outsource your IT needs and know you have experienced professionals taking care of your network and valuable data. Computer and network downtime, loss of customer data, security risks, all have a huge impact on business success. Businesses who are proactive and take consistent measures to prevent technology issues from occurring keep costs down, and stay ahead of the competition.
We want you and your staff to focus on doing business. Our Managed IT Services at Network Knowledge allow you to stop being in reactive-mode, scrambling to handle urgent technology issues. We will partner with you to determine what your IT priorities are, create a customized plan and structure to manage those needs, and always be there behind the scenes to ensure your business is running smoothly. Focus your attention on the business at hand, and let us take care of keeping your computer system and network running smoothly and safely.
Managed IT Services are reliable and cost-effective.
Most businesses cannot afford to have IT professionals on staff, leaving you dependent on inexperienced staff, and having to drop everything when there is a computer system or network issue. Lost productivity, and the inability to support customer needs, results in lost revenue. When you partner with Network Knowledge, we become an extension of your business, acting as your IT department. All of our Managed Care client plans are customized to your specific industry and needs of your business operations. We stay ahead of issues, predict equipment needs, and keep your data backed up and secure. With a monthly, fixed Managed Services plan, your IT costs will be lowered, and you benefit from decreased downtime, faster response times to problems, and increased employee productivity.
Are Managed IT Services right for your business?
No one wants to think about technology as long as it is working, yet what if you lost valuable customers and revenue because your system crashed? What would happen if your network went down during daily operations, or you lost your customer data? What if you were cyber-attacked and your website was unavailable or no one could reach you by phone? If you ever have concerns about employee efficiency, good customer service, lost productivity, or the security of your data then Managed IT Services if for you.
Let Network Knowledge manage your IT needs.
As a Managed Services client, we will monitor and maintain your computer system and network following the latest industry standards, and best technology business practices, to prevent downtime and increase productivity. Our monitoring and maintenance services include hardware, operating systems, email issue detection, network security checks, updates and vulnerability patches, complete and regular data back-ups, virus and malware updates and scanning, performance and compliance monitoring, and unlimited access to our 24/7 Help Desk [link?]. Our software gives us the ability to monitor all your covered computers and servers to fix errors automatically, and report potential risks and problems immediately. Our goal is to stay ahead of IT problems, and help you be proactive with your IT needs.
Other features of our Managed Services include:
Technology Asset Management 
We are able to maintain an inventory of your equipment regarding age, system and hardware capacity requirements, and catalogue all the applications and software. This invaluable record allows us to alert you if systems are reaching their maximum, when registrations are due, and to predict necessary upgrades. Our Asset Management service allows our clients to avoid costly equipment failures, and project technology needs for efficient budgeting.
Automatic Windows Updates and Patches
Security threats on the internet are a daily occurrence, and immediate installation of updates and security patches is the only way to prevent catastrophe. Businesses avoid updates because it interrupts workflow. With our Managed Services, we automate all Windows security patches and updates to your server(s), workstations and laptops to occur after hours so we can ensure you are protected from the latest internet dangers, and your computer performance is remains optimal.
Anti-Virus & Malware Scanning
The consequences of not having good virus and malware protection, and keeping it constantly updated, are disastrous. Every internet user has a very high likelihood of downloading some form of malware, receiving a cunning email virus, or becoming the victim of online hacking. These web attacks can delete critical files, cause irreparable damage to a system or network, and steal information and identities, costing thousands in damages. We use Cloud-based software to ensure we receive instant virus attack alerts, and keep your entire network updated and protected.
Consistent Backups
The primary job of a computer system and network is to manage your business data. It is essential to always back up information, and have a recovery mechanism should a system failure occur. Data can become corrupted, be wiped out by a hardware problem, and equipment can be destroyed in an event. Cyber attacks (Ransomware) are common occurrences, so having regularly scheduled backups, and system recovery that can be achieved in hours, is of critical importance. With our Managed Services you will have one company-wide backup solution, including mobile users, so you will never be without your critical files. We verify backups daily, and make necessary adjustments to new data folders as they become available.